Mini Facelift
Offered at our convenient location in Raleigh, NC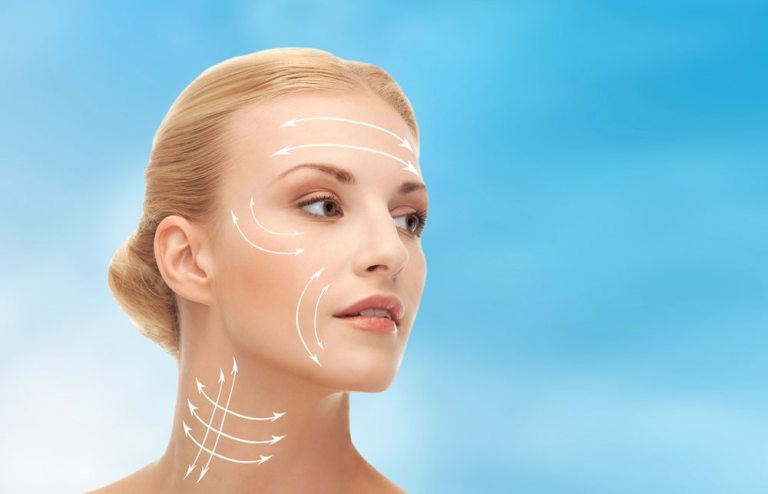 A mini facelift is a modified version of a traditional facelift that is less invasive and addresses signs of aging in the lower portion of the face. [1][2] Men and women who don't require extensive rejuvenation but want to improve the appearance of jowls, nasolabial lines, and laxity around the jawline and upper neck can achieve natural-looking results with a mini facelift. Because it requires smaller incisions than a traditional facelift, patients experience a shorter procedure, and a faster recovery. And, once they've completed their recovery, they enjoy subtle, but significant improvements to the contours of the lower half of their face.  
Double-Boarded cosmetic surgeon Dr. Amber Allen is proud to offer this specialized approach to a facelift. If you'd like to refresh your appearance, schedule a consultation with Allen Aesthetic Surgery. Dr. Allen and her staff will meet with you and devise an individualized plan to achieve your desired aesthetic. Reach us at (919) 676-5052.
About Mini Facelifts
The aging process affects our faces in many ways. The skin loses valuable elasticity, the small fat pads that give the face youthful volume atrophy, and gravity takes its toll. In addition, facial muscles lose tone and volume, and bone density decreases. [2] Thus, the appearance of wrinkles and other unflattering signs of aging start to show. Rhytidectomies, or facelifts, have been performed in various forms for over a century to address these inevitable signs of aging. As the decades have passed, better understanding of facial anatomy and improved technology have led to the ongoing refinement of this procedure. [1] 
A facelift can target different areas of the face and address specific signs of aging depending on the incisions that a surgeon makes. The size and location of these allow access to the underlying structures of the face, which can then be repositioned for a more youthful appearance, and skin redraped for a smoother effect. In a full facelift, incisions extend around the ears and upwards behind the hairline so that a surgeon can address the regions above the eyes, as well as the midface. The mini facelift was created to provide a smoother texture to the facial skin with shorter incisions and recovery time. First, Dr. Allen makes a small incision in front of the ears extending from the hairline to the bottom of the earlobe. Then, she gently pulls the skin and tissue apart, removes the excess, and closes the skin with sutures. The procedure won't leave you with an obvious surgical look. Instead, a mini facelift provides patients with natural enhancements for the chin, cheek, and jawline.
Benefits
A mini facelift is a condensed version of a regular facelift but still provides striking results! A mini facelift also offers the following advantages:
Can be conveniently done under local anesthesia
Shorter recovery time than a regular facelift
Enhanced facial contours
Corrects the sagging and wrinkles in the lower portion of the face, jowls, and neck
Less scarring because of short, discreet incisions [3]
Cost-effective treatment
Ideal Candidates
Patients of all ages concerned or unhappy about minor to moderate age-related wrinkles appearing on their faces will see significant benefits. A personal consultation with Dr. Allen will determine whether a mini facelift or another treatment will best serve your desired goals. However, ideal candidates are usually:
Looking to correct early signs of aging, such as deep nasolabial folds, sagging cheeks, and jowls
Free from health conditions that would prevent proper healing
Prefer outcomes that are longer lasting than fillers but less invasive than a standard facelift
Of the understanding that they should not smoke until the recuperation process is complete
Sensible about their aesthetic intentions
Schedule a consultation with us today at our Raleigh location. Make one online or reach us at (919) 676-5052. 
Your Consultation with Dr. Allen
Allen Aesthetic Surgery is a state-of-the-art facility dedicated to meeting our patients' needs. Dr. Allen comes highly recommended because of her breadth of experience and devotion to her patients.
Your initial appointment will discuss how you wish to look and how a mini facelift can achieve that. Important information regarding your health, past surgeries, and medication allergies will be recorded as a part of the intake process. Then, Dr. Allen will visually inspect your skin laxity in the lower third of the face. Once all relevant information is collected, she will share her medical opinion on how a mini facelift will bring your youthful, satiny skin. At the end of your appointment, we'll go ahead and schedule you for your surgery date.
Preparation
Preparing for your mini-facelift is stress-free. Just follow a few essential steps before coming in for surgery. They include:
Arranging a ride from our surgical center once the surgery is complete. Designate someone you know to drive you home.
Pausing smoking until the recovery stage is finished. Tobacco is known to constrict blood flow and slow healing.
Telling us of any medications, supplements, or vitamins you take. You may need to stop taking some of these because they can increase bleeding.
Going to your local drugstore and picking up any medications ordered by Dr. Allen.
Scheduling a few weeks off from work to allow for proper healing and rest.
We invite you to read our blog posts to prepare you for surgery further and to stay informed about the other surgical and non-surgical services we offer. 
Procedure
Your treatment will be conducted under local anesthesia. You will be awake but won't be able to feel a thing. Once the anesthesia is in effect, Dr. Allen will begin by making a small incision in front of each ear that stretches up along the hairline. She will lift the skin away from the underlying facial muscles, in order to perform the necessary cosmetic adjustments. [2] The skin around the cheeks and neck will become firmer once the redundant skin is excised. In about an hour, the procedure will end with the closure of these incisions with sutures. 
Recovery
Most patients should feel comfortable resuming their daily life, including work, within the third week of their recovery. Until that happens, please take it easy by taking the medication as and when required, getting adequate sleep, and staying hydrated. Doing all of this will help neutralize discoloration, and aid swelling, tightness, and mild discomfort. Also, please avoid touching, washing, or massaging the face until two weeks have passed. At this point, we'll direct you to come back to the office to check up on your process and to re-bandage the incision points, if necessary.
Results
You can get a sneak peek at your results right after surgery, however, there will be some swelling. As you recuperate, you will start to see more remarkable results come into view. When you look in the mirror, you'll see more defined cheekbones, refined jawline contours, tighter skin, and reduced wrinkles. [4] The results of a mini facelift can last up to 10 years with proper precautions.
Corresponding & Complementary Procedures
Dr. Allen is highly experienced in facial rejuvenation procedures and makeovers. Depending on the skin's condition and your intended results, she may recommend other treatments to provide great results in other areas. They include:
Facial Fillers
Dermal fillers are incredibly popular for increasing lost facial volume and enhancing your natural beauty. They're also a less invasive non-surgical way to achieve your beauty goals. Dr. Allen can perform a simple in-office procedure that can help you to enhance your lips or your cheeks, or use fillers to gently smooth and soften areas with fine lines and wrinkles. As the needle is so fine, injections are practically painless!
Laser Resurfacing
A laser resurfacing treatment for the face is a non-invasive way to improve skin texture and appearance. If you suffer from acne scarring, whether it's atrophic (depressed) or hypertrophic (raised), laser resurfacing can transform your skin with minimal hassle and downtime. Laser energy can also help to improve common signs of facial aging such as dark spots, uneven texture, and fine lines.
Fat Injection
Fat grafting procedures aren't just popular for the body. They can also be a more permanent way to redistribute fat to regions of the face with lost volume. As we age, our facial structures can become more pronounced and we can lose our youthful heart-shaped face. If you have experienced facial hollowing, especially in the cheek area, speak to Dr. Allen about receiving fat injection treatment to enhance your mini facelift. 
Cost of a Mini Facelift in Raleigh, NC
A mini facelift is a flexible procedure that considers multiple factors in the final pricing. These details will be explained to you by Dr. Allen at your consultation. We'll help you sort out financial questions and explore your options to make your aesthetic desires come true.
FAQ
Will a mini facelift take long?
It will not. A mini facelift takes less time than a regular facelift to perfect the final results. Your surgery should last about an hour. Then, after a brief post-surgery observation, you are free to go home and concentrate on healing. 
What is the recovery period like for a mini facelift?
A standard recovery from a mini facelift should take no longer than three weeks. Most patients see their symptoms alleviate and return to their regular daily activities during this time. 
How long will my mini facelift results last?
Your mini facelift results should last up to 10 years as long as you practice good skin care and continue to lead a healthy lifestyle. 
References