Eyelid Surgery (Blepharoplasty)
Offered at our convenient location in Raleigh, NC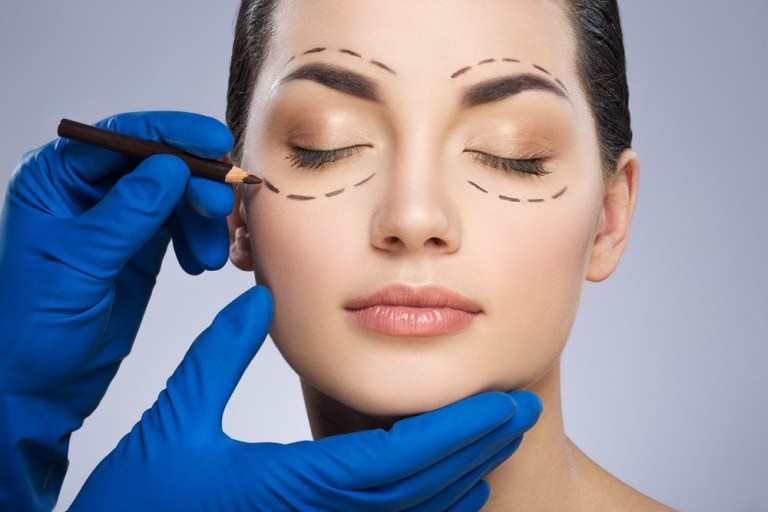 Due to the skin on the eyelids being thin and very delicate, the signs of aging may appear around the eyes first causing us to appear sad, angry, or tired even when we aren't!
Cosmetic surgery of the upper eyelids with Dr. Amber L. Allen can help eliminate hooding that sometimes affects our ability to see creating a more open and brightened eye. Lower eyelid surgery will help reduce the puffiness associated with fat protrusion and potentially lessen dark circles under the eyes.
Did you know?
Certain conditions can interfere with the healing process following an eyelid surgery. Eye diseases like glaucoma, retinal detachment, and dry eye can inhibit eyelid surgery recovery. Other medical conditions can increase the risk associated with the procedure, such as cardiovascular disease, thyroid diseases and diabetes.
It is important to let Dr. Allen know if you suffer from any of these conditions.
Before and After Photos
FAQ
Am I a candidate for eyelid surgery?
You may be a candidate for eyelid surgery if you are a non-smoking adult in good health. It is important that you have realistic expectations for the outcome of your blepharoplasty. A consultation with Dr. Amber Allen can help you determine whether your facial tissues and eye muscles are healthy enough to undergo a blepharoplasty procedure.
What should I expect during my blepharoplasty procedure with Dr. Amber Allen?
You'll be placed under IV sedation or general anesthesia for the duration of your eyelid surgery. Your surgeon will form an incision discreetly along the natural crease of the eyelid or along the lower lash line. It is via those incisions that excess skin can be removed, the muscles tightened, and fat deposits redistributed.
Will I need to follow any special post-operative instructions after my eyelid surgery?
The eyelid surgery recovery period will require that you follow special instructions provided by Dr. Amber Allen. These instructions are designed to facilitate a complete recovery free of complications. When you awaken from surgery, your eyes may be covered with gauze and lubricating ointment. In the following days, you may be responsible for applying topical medications or taking oral prescriptions to prevent infection. It is normal to experience some swelling and bruising following the procedure, but most discomfort should subside within a few weeks.

Upper eyelid surgery can be performed with local anesthetic alone while lower eyelid surgery is usually performed with IV sedation. Markings are placed to indicate how much skin is to be removed, and you are shown prior to being taken into the operating room. Following the procedure, you are asked to maintain cool compresses on your eyes for the first 24 hours. Naturally, you can expect some swelling, and you may even develop "gunk" in your eyes. It is very important to refrain from taking aspirin, Motrin, Ibuprofen or NSAIDS either before or immediately after your procedure. As a general rule of thumb, these medications should stop 14 days before and after any surgery. As each patient's needs are different, our office can help answer any questions you may have at your consultation with Allen Aesthetic Surgery.