Bellafill
Offered at our convenient location in Raleigh, NC
Bellafill is an injectable filler that is FDA approved to treat nasolabial folds as well as acne scarring. The nasolabial folds, sometimes called "smile lines," extend from the nose to the corners of the mouth. Bellafill provides instant smoothness, with results that continue to develop over time. In the longest and largest study ever conducted on dermal fillers, Bellafill is proven to be effective over five years. That means that you can enjoy your results for much longer than you would with hyaluronic acid-based fillers.
Bellafill is also the only FDA approved filler to treat some types of acne scars in patients over the age of 21. Bellafill immediately provides volume under the treated area to bring it to the same level as the surrounding skin in order to soften and face the scar.
Allen Aesthetic Surgery, in Raleigh, North Carolina, proudly offers Bellafill injections to volumize depleted skin. Allen Aesthetic Surgery focuses on procedures that offer enduring results that help patients achieve their aesthetic goals. Dr. Amber L. Allen is double-board certified in both Cosmetic and General Surgery and experienced in producing natural-looking outcomes that can boost self-esteem and body image. We place patient safety and comfort as our primary priorities at Allen Aesthetic Surgery.
If you want to look your best, give us a call and set up a consultation for Bellafill. You can reach our Raleigh office at (919) 676-5052.
About Bellafill in Raleigh, North Carolina
Bellafill has 2 main components:
Smooth collagen gel (80%) that forms the base of Bellafill, creating smooth, supple volume beneath the surface of the nasolabial folds.
Polymethyl methacrylate (PMMA) microspheres (20%) are suspended within the collagen gel. These form a sturdy scaffold where your natural collagen grows.
Thanks to its two innovative components, Bellafill creates instant results that you can enjoy as soon as you leave the office.
How Does Bellafill Work?
Collagen and elastin are crucial ingredients for youthful, healthy skin. They form an underlying "scaffolding" called the extracellular matrix (ECM) that provides volume and keeps our skin hydrated, smooth, and radiant. Due to aging, excessive sun exposure, and other factors such as smoking or diet, this scaffolding starts to deteriorate and leave gaps underneath the skin. The result is dry skin, loss of skin volume, rough skin texture, and more. Fillers, such as Bellafill, literally fill in these gaps in the extracellular matrix.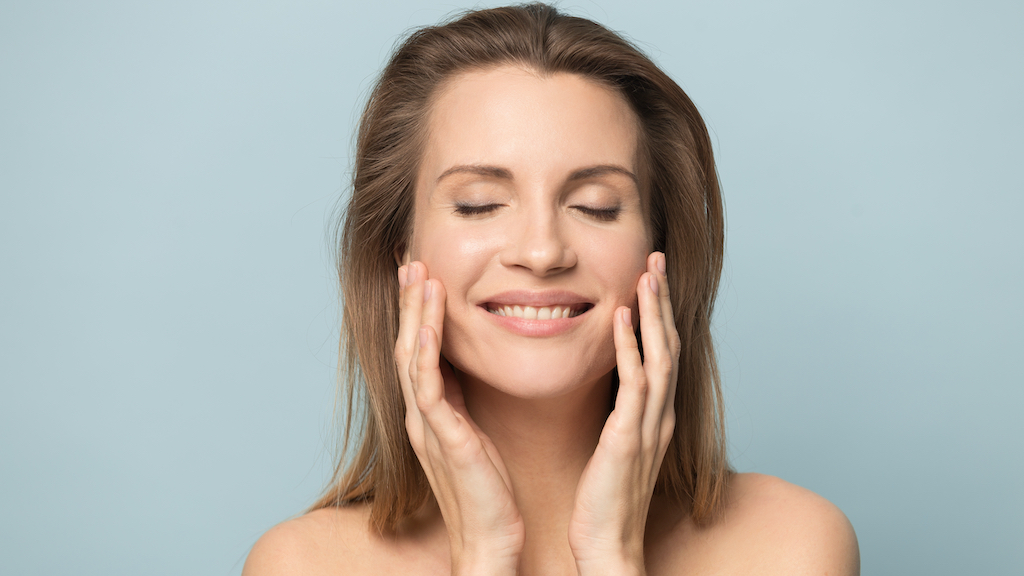 Bellafill works on two levels. First, the collagen base starts to immediately replenish the collagen lost over time. This influx of collagen serves a volumizing effect on the skin, working to restore youthful skin volume. Second, the PMMA microspheres provide additional support while the body refreshes the skin with natural collagen. By filling in depressions in the skin that result from aging, acne scars, or other sources, Bellafill improves skin texture. It also aids with the improvement of skin tone by reducing associated scars.[1] As the original collagen gel fades away, your body naturally replaces it with your own collagen around the microspheres, for unparalleled long-term smoothness. As a result, Bellafill restores youthful skin volume and smooths the marks of aging.
What Are the Benefits
Superb results in minimizing blemishes as the only FDA-approved filler to treat acne scars
Extra long-lasting effects that last up to 5 years
Quick and easy treatment that can be completed in under an hour
No downtime – immediately return to your everyday activities
Stimulates immediate and long-lasting collagen production
Natural-looking results that avoid an "overdone" look
Before and After Photos
Candidacy & Safety
The best Bellafill candidates are women or men, 21 and older, who dislike the look of their nasolabial folds and wish to avoid the regular touch-up treatments associated with other fillers. Bellafill is safe for skin of all types and colors. However, an allergy test is required in some patients prior to treatment to make sure prospective patients aren't sensitive to the product. Additionally, patients with acne scars see enormous benefits from Bellafill. Bellafill is FDA-approved. In addition, both its collagen gel and its PMMA microspheres have established records of safety. PMMA is an acrylic material that's widely used in medicine while collagen occurs naturally in the body.
Your Personal Consultation with Dr. Allen
Your initial consultation with Dr. Allen offers an opportunity to open an ongoing dialogue with an experienced cosmetic surgeon who places your safety and satisfaction as primary. Dr. Allen will take the time to listen to all your aesthetic aspirations, answer any of your questions, and review your treatment options. She will then assess your medical history to determine if you qualify and devise a treatment plan to help you achieve your goals.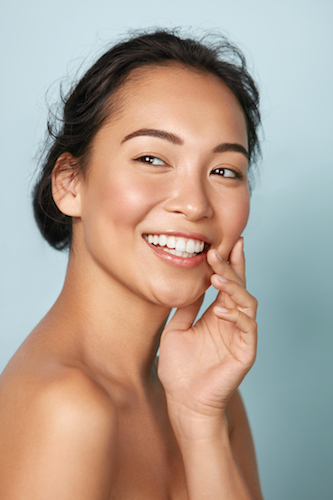 Dr. Allen served as a co-instructor and presenter for the American Academy for Cosmetic Surgery's annual meeting. Beyond her surgical qualifications, Dr. Allen brings a unique artistic perspective to treatments since she studied fine art in college before specializing in medicine. This unique combination of skills informs Dr. Allen's approach to Bellafill injections. No one wants to look unnatural. By unifying an understanding of anatomy and physiology with an exquisite eye for detail, she can achieve natural-looking results that enhance your innate beauty without looking "overdone".
If you want to learn more about how Bellafill can help you achieve long-lasting aesthetic enhancement, schedule a consultation with Allen Aesthetic Surgery today.
You can reach our Raleigh office by calling (919) 676-5052. To stay updated on the latest trends in aesthetic enhancement, follow our blog.
How do I Prepare?
Bellafill is an easy procedure when it comes to preparations. You simply need to follow a few basic steps. For one week, avoid aspirin, ibuprofen, alcohol, vitamin E, fish oil, and blood-thinners. Medication and herbal supplements that thin the blood can interfere with optimal healing after the procedure and lead to prolonged bruising or swelling. Ask about using arnica the day before and after your treatment. Arnica is a pain reliever that further decreases any discomfort experienced during the procedure. Bellafill contains a small dose of lidocaine to help ensure a comfortable treatment but some patients prefer a little extra pain relief.
What Should I Expect During the Procedure?
After we help you get comfortable in a private room, your medical professional will start preparing you for treatment. This might include using a surgical marker to form guidelines for your injections. These surgical markings help optimize the location of the injections. We might also apply a numbing cream to the treatment area to ensure your comfort during the injections. Your clinician will then carefully perform the injections. Bellafill sessions make take as little as 30 minutes to a little over one hour depending on your individualized treatment plan. The doctor may recommend two or more Bellafill sessions to achieve your desired outcome and prevent overcorrection or under-correction.
Easy Recovery
Recovery is straightforward. Most patients can immediately return to their daily activities. Refrain from rubbing, scratching, or itching the treatment area for a few days for optimal results. Also, make sure to follow any personalized instructions provided to you by Allen Aesthetic Surgery.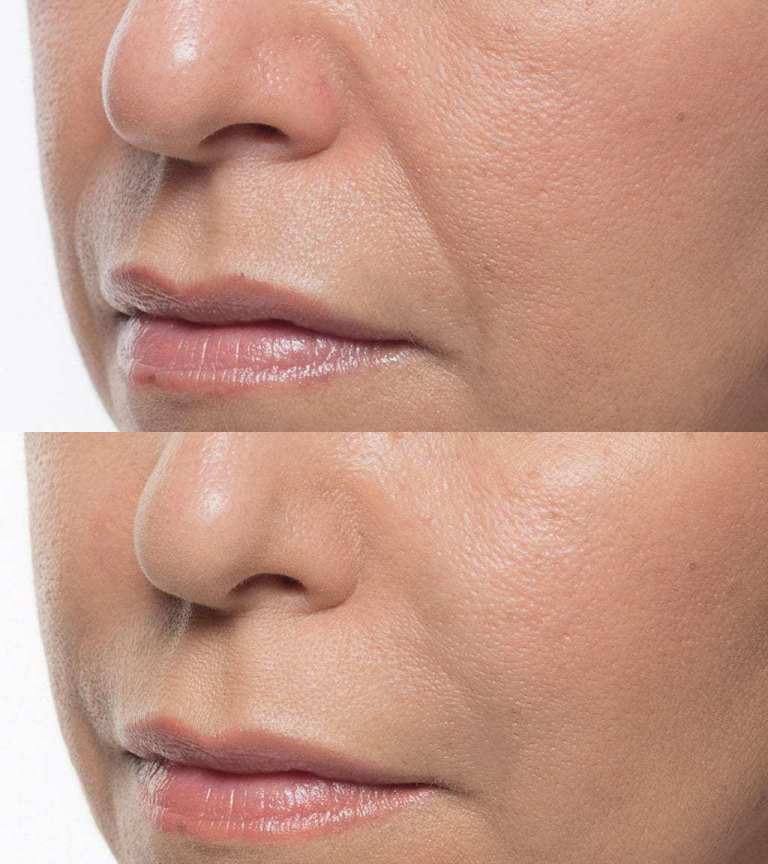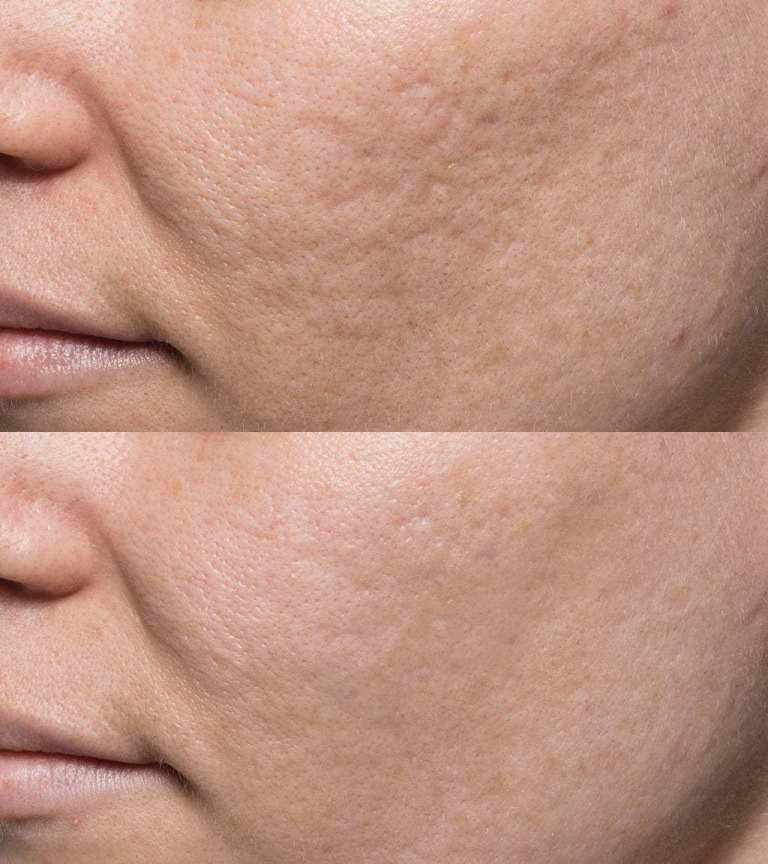 Meaningful Results
Bellafill offers the longest-lasting results among injectable fillers. For the treatment of acne scars, Bellafill offers results unmatched by other dermal fillers. Studies indicate that 96% of atrophic scars were improved.[2] Patients report over 99% satisfaction for Bellafill treatments.[3] Bellafill was proven to work on all Fitzpatrick Skin Types (Type I to Type VI).[4]
How Much Does Bellafill Cost in Raleigh?
Bellafill treatments can vary greatly depending on each individual case. Some patients will only require a few injections to meet their needs, while it might be necessary for other patients to have a more involved series of injections. As part of your consultation, Dr. Allen will review the costs and provide you with a pricing breakdown for your customized treatment plan. There are no hidden costs at Allen Aesthetic Surgery.
FAQ
What is Bellafill?
Bellafill is a smooth, collagen gel-based dermal filler that contains tiny PMMA microspheres.
How does Bellafill work?
The collagen gel in Bellafill provides immediate volume and lift to correct lines and wrinkles, smoothing them away for instant results. Even as the collagen is absorbed by your body, the PMMA microspheres remain in place, creating a "scaffold" that triggers and supports your own natural collagen production. Because your own collagen replaces the collagen gel from the initial injections, results last seamlessly through five years.

Is Bellafill safe?
Yes. Bellafill is FDA-approved and has been proven safe and effective in rigorous clinical studies. Bellafill performed very well in the largest and longest safety study ever conducted on dermal fillers. At the study's completion, 83% of patients were still satisfied with their results 5 years after treatment.
As with many injectable fillers, you may experience bruising, itching, pain, swelling, redness, discoloration, or increased sensitivity at the treatment site. These side effects usually resolve themselves quickly.

What results can I expect from Bellafill?
Bellafill creates an enduring improvement in your skin by smoothing out the lines around the nasolabial folds. There's no required downtime after your treatment with Bellafill. You can return to your normal routine immediately.
How long does it take to see the results from Bellafill?
For one Bellafill session, final results are usually visible after about 3 months. Because Bellafill promotes additional collagen synthesis, maximization of the body's restorative processes takes time.
References