Arm Lift (Brachioplasty)
Offered at our convenient location in Raleigh, NC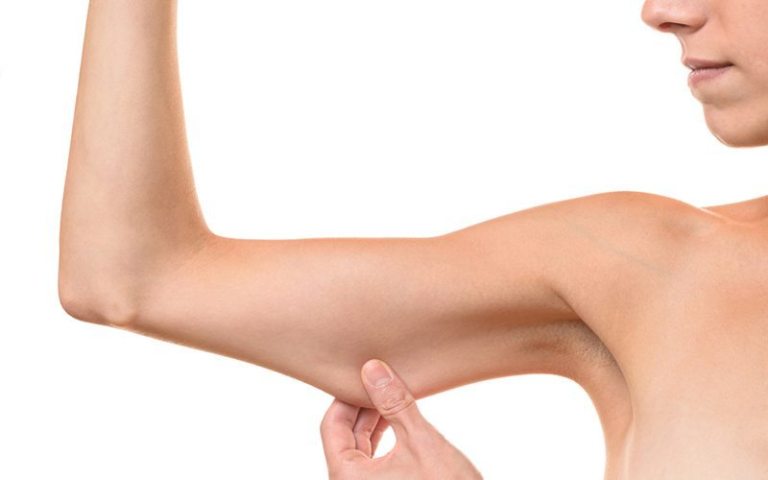 Wave Goodbye to Arm Fat
An arm lift is a cosmetic surgery that removes excess skin and fat from the upper arms. It can be performed on both men and women of any age. Patients who have recently lost a lot of weight may be interested in this permanent solution to removing the dreaded "bat wings," or the skin that hangs down from the upper arm. Keeping the skin in this area tight can make a patient look and feel years younger.
At Allen Aesthetic Surgery, we understand that every patient is unique. During your consultation with Dr. Amber L. Allen, she will take the time to listen to your goals and concerns to help you decide if an arm lift is right for you. Call today to schedule your appointment, and you will be one step closer to a slim, contoured bicep. Patients in Raleigh and the surrounding areas can call (919) 676-5052 or fill out this form to receive a returned call.
Did you know Dr. Allen has a blog? She shares the latest trends, informative articles, and more! Stay in the know by following Allen Aesthetic Surgery on Facebook, Twitter, and Instagram.
What is an Arm Lift?
As people age, their appearance changes, and many people struggle with confidence, self-esteem issues, or other personal problems related to their appearance. Some procedures, such as a Brachioplasty (arm lift), provide people with a way to improve their confidence and self-esteem.
Sometimes, after weight loss or age, the skin loses its ability to snap back into shape, resulting in sagging skin and pockets of fat that increase laxity. For example, arm fat that swings when you wave goodbye is associated with age, which is why so many patients choose to undergo surgery to correct the issue. The number of arm lift surgeries performed in the US increased by 4174% between 2000 and 2020! [1]
Many patients in North Carolina choose Dr. Amber L. Allen for their arm lift surgery because of her experience and artistic approach to sculpting the perfect result. Dr. Allen will assess which methods best suit your unique case, including liposuction alone or a combination of liposuction and skin removal.
Why Does Skin Sag?
The deep layers of the skin have a structural support system of collagen and elastin fibers, which keep it smooth and firm. With age, these fibers break down, and the skin loses its elasticity; this is why you may notice wrinkles, fine lines, and sagging skin. Once the skin has lost its elasticity, no amount of diet or exercise will reverse the change.
In addition to age, other factors that contribute to skin laxity include:
Weight gain or loss
Pregnancy
Genetics
Exposure to the sun or other UV rays
Many patients who lose weight using a lap band or other gastric bypass surgery find that they need skin-tightening surgery because their skin has been stretched to the point that it cannot snap back. [2]
What are the Benefits of Arm Lift in Raleigh?
Some of the many benefits of an arm lift include the following:
Elimination of sagging skin
Tightened upper arm
Reduction in the circumference of the upper arm
Improvement in the shape of the upper arm
Restoration of confidence
The results of your arm lift are permanent and long-lasting, though the skin will continue to respond to environmental factors like UV rays; therefore, it is vital to maintain a healthy lifestyle and use sun protection to help your results last.
Who is a Candidate for an Arm Lift?
The ideal candidate for an arm lift is in good physical health and has excess skin and fat on the upper arms. Patients may be interested in this procedure following weight loss or due to the natural aging process. The ideal candidate is at or near their ideal weight.
Patients who are candidates for surgery must also:
Be non-smokers
Have realistic expectations
Be committed to a healthy lifestyle and sun protection
Do you hate your upper arms? Are you ready to remove the flaps hanging down when you lift your arms? Are you ready to wear sleeveless shirts and dresses confidently? Then, call Allen Aesthetic Surgery to start the process of getting the arms you have always wanted!
Personal Consultation
During your consultation, Dr. Allen will evaluate your unique case and help you decide if an arm lift is right for you. She will discuss your goals and concerns to ensure you make the best decision for your needs. For example, if you have moderately lax skin on your upper arm, she may recommend an alternate procedure or treatment, like Renuvion, a non-invasive skin tightening procedure.
At Allen Aesthetic Surgery, we understand that choosing to undergo surgery is a big decision. We are committed to providing you with the best possible experience and results. Contact us today to schedule your consultation!
Preparation
Preparing thoroughly for surgery is essential, and we will provide detailed instructions during your consultation. But here is a general roadmap of what you can expect:
Quit smoking at least six weeks before and after surgery to promote healing
Avoid taking blood thinners, aspirin, and certain supplements two weeks before surgery
Arrange for someone to drive you home and stay with you for the first 24 hours after surgery
Have any prescriptions filled before your surgery date
Following these simple instructions can help ensure a smooth surgery and recovery.
What to Expect During Your Arm Lift Procedure
Brachioplasty is surgery and so comes with the necessary patient comfort precautions. Placing the patient under anesthesia puts them to sleep during the procedure. Some patients will have intravenous sedation with local anesthesia, while others will receive general anesthesia.
First, Dr. Allen will make an incision on the inner upper arm. The skin excision will vary in length depending on the amount of tissue needing to be removed. These incisions typically run from just below the armpit to above the elbow. Through the incision, Dr. Allen will also remove excess fat, and she will contour the skin tightly over the arm to improve the aesthetic beauty of your arms. Most patients do not require a hospital stay; the procedure generally takes two to four hours.
One of the benefits of a surgeon with an artistic eye like Dr. Allen is that she will ensure the scar is minimized and recommend the best incision placement for your case.
When the surgery is complete, Dr. Allen will close the incisions with sutures and wrap the area in compression bandages or a compression garment to help reduce swelling.
Care After Your Arm Lift Procedure
After your surgery, we will take you to a recovery room to closely monitor you. You can expect to experience some swelling and bruising, which is normal. To help reduce swelling, Dr. Allen asks that you wear compression garments for 4-6 weeks.
You may also have drains in place to help remove any excess fluid. You will return to Dr. Allen a week after surgery to remove the drains. You will have additional follow-up appointments with Dr. Allen to ensure your incisions heal properly; keeping these appointments is vital.
Recovery
It is usual for there to be some swelling or bruising around the site of the incision. Patients may also notice some skin rippling in some areas of the arm. This will eventually lessen with time and eventually resolve itself. Patients should let their arms rest for about a week or two to give the area time to heal. Exercise and intense activity should be avoided for around a month.
Patients with questions regarding brachioplasty should contact our office. Dr. Allen has experience performing brachioplasty for countless patients with outstanding results. Call today to schedule an appointment! In Raleigh, NC, and the surrounding areas, call (919) 676-5052 or fill out this form.
What are the Results of an Arm Lift?
Most patients are thrilled with their results and feel more confident in their appearance! As your arms heal, you'll be able to enjoy the improvements, and want to show off your stunning upper arms to everyone!
Most patients are delighted with their results, but as with any surgery, there are potential risks and complications. These will be discussed with you in detail during your consultation.
Corresponding & Complementary Procedures
Many people will combine Brachioplasty with other cosmetic procedures. For example, people who lose weight quickly can develop drooping skin in multiple locations around their body because the skin has been stretched from the excess weight. Therefore, it is normal for people to want to combine Brachioplasty with other surgical procedures.
The mini tummy tuck can help correct loose skin and stubborn fat deposits around the lower abdomen.
Liposuction can be used in conjunction with a Brachioplasty to help improve the overall shape of the arms.
Breast Procedures
If you have sagging breasts, a breast lift or augmentation may be recommended to help improve sagging tissue in your upper body. A lift is best suited to patients with ample breast tissue, while augmentation uses implants to increase the fullness of the breast; often, the procedures are combined.
You've lifted your arms; why not lift the skin on your thighs? A thigh lift can improve the appearance of your thighs and is often performed in conjunction with a brachioplasty.
What is the Cost of an Arm Lift in Raleigh, NC?
Cost is always a consideration when planning cosmetic surgery. The price of your arm lift will be based on several factors, which Dr. Allen will discuss during your consultation. So wave goodbye to those upper arm jiggles and get the toned, sexy arms you've always wanted with an arm lift from Dr. Allen in Raleigh!
References
PLASTIC SURGERY STATISTICS REPORT 2020.; 2020. https://www.plasticsurgery.org/documents/News/Statistics/2020/plastic-surgery-statistics-full-report-2020.pdf
Sioka E, Tzovaras G, Katsogridaki G, et al. Desire for Body Contouring Surgery After Laparoscopic Sleeve Gastrectomy. Aesthetic Plastic Surgery. 2015;39(6):978-984. doi:10.1007/s00266-015-0561-1