Microneedling
Offered at our convenient location in Raleigh, NC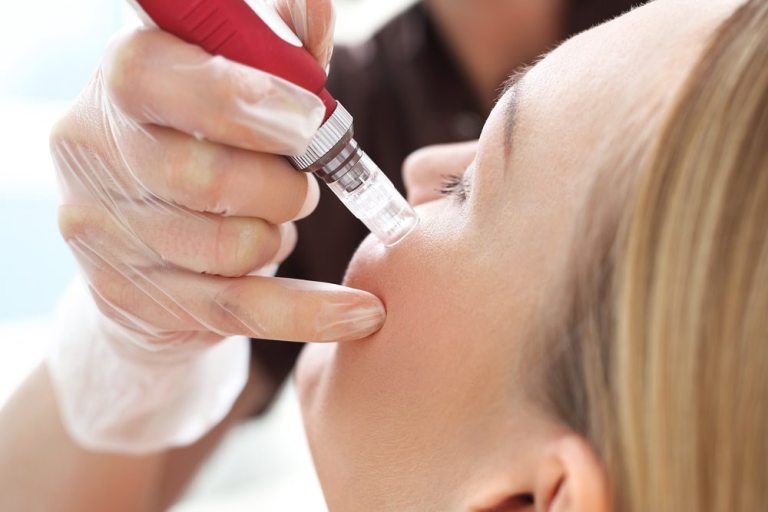 Microneedling, also known as collagen induction therapy, is a minimally invasive skin rejuvenation procedure that reverses common signs of aging and other imperfections in your complexion–from the inside out.
By making tiny disruptions that reach deep into the dermis layer of the skin, microneedling triggers a cascade of regenerative effects that heal weakened skin tissue and create new, healthy skin cells. This process, in turn, tightens, smoothens, and restores aged skin. From wrinkles to sun damage, microneedling is a simple yet effective procedure for those interested in turning back the hands of time on their skin's appearance. For these reasons, Dr. Amber L. Allen and her team of experts at Allen Aesthetic Surgery are proud to offer microneedling to their Raleigh clientele. To begin this process and see a rejuvenated you, please schedule a personal consultation at our offices. If you'd like to call our front desk, our number is (919) 676-5052.
What Causes Aging in Our Skin
As we get older, our skin can appear wrinkled, loose, uneven in tone and texture, and just not as radiant as it was in our younger years. While there are intrinsic causes of aging, the loss of our skin's youthful vibrancy is also caused by unprotected exposure to UV rays, an imbalanced diet, and stress.[1] All of these factors culminate in the loss of healthy collagen in our skin. Collagen, the fibrous, flexible protein found in 70-80% of our skin, is what maintains our skin's inner structure.[2] By retaining water in our epidermis, healthy collagen fibers support smooth, firm, and strong skin tissue. But as we get older, the fibroblast cells responsible for supplying new collagen fibrils slow down. Now, these older, weaker collagen fibers are unable to sustain the proper support in our dermis. Our skin gradually loses its youthful and smooth appearance. Wrinkles and fine lines start to form around the neck and face. Brown sunspots pop up in our complexion. Our skin starts to appear looser. While there are options to tighten and firm muscles, sadly there is no gym for the skin. That is just the problem Dr. Allen set out to solve when she added microneedling to her suite of cosmetic services. 
About Microneedling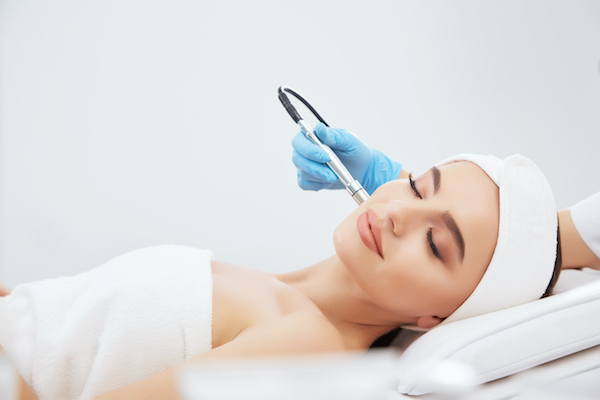 During a microneedling session, needles that have been specifically designed to reach the dermis layer to penetrate the skin's surface and create micro-channels. These micro-channels trick the body into thinking an injury has occurred in the skin. Suddenly, the body generates growth factors that stimulate the production of restorative collagen fibers.[3] Over time, these neo-collagen fibrils will supplement the old, weakened fibers. This process re-strengthens the structure of the skin, causing wrinkles to smoothen, fine lines to disappear, loose skin to tighten, and hyperpigmentation to fade. 
Benefits
Personalized Treatments
Not all skin ailments exist on the same level of the epidermis or dermis. But because the length of the needles is adjustable, microneedling can treat a wide range of skin conditions. While fine lines and wrinkles may exist on more superficial layers of the skin, other troublesome skin conditions require a deeper approach. Studies have shown outstanding results for microneedling facial scars. When used on facial scars from acne, patients have reported a 51%-60% improvement in scar appearance and 40%-50% improvement in skin texture.[3]
Quick Procedure with Little to No Downtime
Depending on the number of areas you have treated, your microneedling session will be quick. After only a few passes of the needles over the target area(s), you will be free to leave our care and resume your daily routine. Patients love the simplicity of microneedling so much they schedule their sessions on their lunch breaks. After your session, you can expect no adverse reactions or side effects.
Treatable Conditions
Wrinkles
Fine lines
Lax skin
Sunspots
Uneven texture
Mild to moderate acne scars
Mild to moderate traumatic scars
If you have one or more of these skin conditions, please don't hesitate to schedule a personal consultation at our Raleigh office!
Personal Consultation
Having assisted and performed over 600 surgeries during her esteemed career, Dr. Amber L. Allen is one of the most established and experienced cosmetic surgeons in the Raleigh area. As a double-board certified physician in both cosmetic and general surgery, Dr. Allen brings her knowledge, skill, and expertise to your consultation. She enjoys learning about her clients' ideal aesthetics and constructing a personalized treatment to achieve that aesthetic. 
We will begin your consultation with a brief physical examination and a new patient intake interview. Then, Dr. Allen will want to learn about your ideal appearance. She will note the spots that you deem areas of concern. Then, she will explain the science behind microneedling and how this simple yet effective procedure can revitalize your skin's appearance. If you both decide that microneedling is right for you, we will schedule a time and date for your first session. Before you leave our care, we will give you a comprehensive list of preparatory steps. While some of these steps will be general steps, be sure to read the list closely as some may pertain to your condition(s).
Preparation
Before your microneedling session, it is important to:
Avoid unprotected or prolonged exposure to UV rays from the sun or tanning beds. This should be adhered to before and after your microneedling session.
Make sure to stay hydrated.
Arrive at your appointment with a clean face. It is recommended that you come without makeup so that the chemicals in the makeup don't interfere with the treatment's proceedings.
Avoid using any skincare products a couple of days before your session such as retinol. These may irritate your skin when the needles and platelet-rich plasma are applied.
Procedure
To begin your microneedling session, we will apply an anesthetic cream to the target area(s). Once this cream is set and the skin has lost its sensitivity, we will gently run the appropriate needling device over the skin, creating tiny punctures in the skin. Many patients don't report feeling discomfort, but some do say they feel slight pressure when the needles glide across their skin. We will apply the microneedles to the area and make sure it has been treated thoroughly. Next, if any other conditions need to be addressed, we will change the needles' depth and repeat the process. After all your areas of concern have been addressed, you will be free to resume your daily routine!
Recovery
One beauty of microneedling is the fact that no recovery or downtime is necessary. After a session, your skin may feel tender and swollen to the touch. This, however, should subside within the next 24 hours. We recommend applying ice to the treated area(s) for the next couple of days. For some patients, your treatment might have utilized deeper needles, so there may be some postoperative bleeding for the next couple of hours.
Results
The moment the needles enter your skin, your body is already healing and repairing the target tissue. Over time, growth factors will trigger the production of neo-collagen that will refresh your skin's inner structure and outer appearance. To see the best results, we recommend multiple sessions spread out over a couple of months. This will help ensure the fibroblast cells regularly produce fresh collagen to reverse the signs of aging in your face. To help improve these results, we recommend that you avoid prolonged artificial and natural UV exposure, stay well hydrated and lead a healthy, active life with adequate nutrition.
Corresponding & Complementary Procedures
After seeing the level of care Dr. Allen and her wonderful team are committed to, you might be inclined to make them your go-to for all cosmetic procedures. Another facial rejuvenation service is laser resurfacing. Laser resurfacing uses state-of-the-art CO2 laser energy to trigger an influx of restorative properties in a patient's skin. Much like microneedling, CO2 laser resurfacing tricks the body to release growth factors that trigger an influx of fresh collagen into the dermis. This technology can be customized to treat your specific skin type, tone, and condition, while also regulating the thermal temperature so minimal discomfort is experienced. 
Cost
The cost of your procedure will vary depending on the number of sessions and the number of areas treated. This price will be determined during your consultation. If you would like to see what specials we currently offer, please check out our specials page or call our offices at (919) 676-5052.
References
Bolke, L., Schlippe, G., Gerß, J., & Voss, W. (2019). A Collagen Supplement Improves Skin Hydration, Elasticity, Roughness, and Density: Results of a Randomized, Placebo-Controlled, Blind Study. Nutrients, 11(10), 2494. https://doi.org/10.3390/nu11102494
Oikarinen A. (1994). Aging of the skin connective tissue: how to measure the biochemical and mechanical properties of aging dermis. Photodermatology, photoimmunology & photomedicine, 10(2), 47–52. https://pubmed.ncbi.nlm.nih.gov/8043384/
Iriarte, C., Awosika, O., Rengifo-Pardo, M., & Ehrlich, A. (2017). Review of applications of microneedling in dermatology. Clinical, cosmetic and investigational dermatology, 10, 289–298. https://doi.org/10.2147/CCID.S142450