SylfirmX
Offered at our convenient location in Raleigh, NC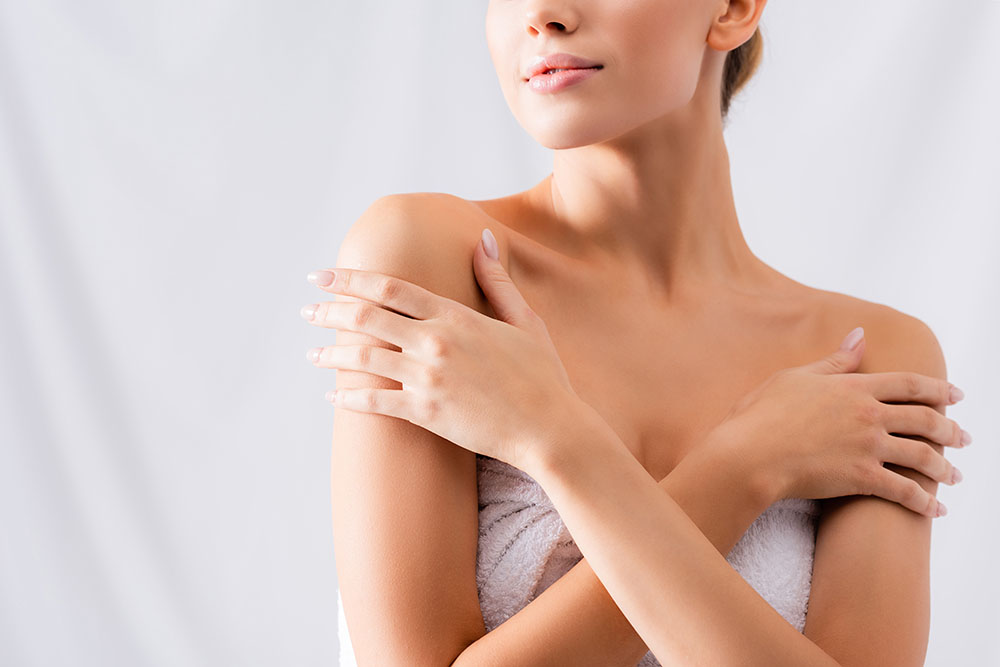 SylfirmX is an advanced RP (repeated ultra-short pulse) microneedling device that specifically targets abnormal blood vessels and tissue to treat increased pigmentation and vascular lesions as well as aiding in skin tightening and rejuvenation. It's the only RF microneedling device cleared by the FDA to safely treat neovascularity, and tough-to-manage conditions like rosacea and melasma. SylfirmX uses a combination of radiofrequency (RF) and microneedling. The RF energy heats up the tissue, which causes the vessels to constrict and collapse while the microneedles help to stimulate the production of collagen, which improves the overall appearance of the skin.
Patients in Raleigh, NC are in luck because Dr. Amber L. Allen of Allen Aesthetic Surgery offers SylfirmX treatments. Dr. Allen is double board-certified in both cosmetic and general surgery and she has extensive experience helping patients achieve their aesthetic goals. Find out how your skin can benefit from SylfirmX treatments by scheduling a consultation with Dr. Allen today. Call (919) 676-5052 or fill out our contact form to schedule your appointment.
Interested in learning about other treatments that can help your skin? You'll love our blog!
More About SylfirmX
Most other radiofrequency microneedling systems only offer Continuous Wave (CW), while SylfirmX offers both CW and Pulsed Wave (PW); this gives Dr. Allen and her team the ability to treat a large number of skin concerns while customizing the treatment for each patient, depending on their skin type and condition.
This new generation system has been clinically proven to be both safe and effective for [1]:
Addressing wrinkles
Reducing redness
Fading acne scars
Minimizing pores
Improving the skin's overall look and tone
The SylfirmX machine uses a microneedling process called Regional Regeneration Radio Repeated Pulse to target and treat the abnormal vessels that can cause melasma, rosacea, and other skin discolorations. By using many microelectrodes, an electromagnetic field of energy is created that can penetrate the dermal layer without damaging any tissue.
The robotic SylfirmX system helps ensure that electrodes are applied evenly and precisely, which allows us to choose from different modes depending on the goals of the treatment. By covering all dermal layers, microneedling treatments are faster, more effective, and more comfortable for patients. [2]
The most common feeling patients experience during the treatment is a tolerable tingling sensation with light pressure. Depending on the depth and area treated, this feeling can vary in intensity. Dr. Allen may choose to use numbing cream for deeper treatments.
What is Radiofrequency?
Radiofrequency uses heat to produce collagen, leading to tauter, younger-looking skin. Combined with our state-of-the-art microneedling equipment, patients will receive the best possible results. Microneedling is a safe alternative to more invasive collagen-stimulating treatments. When done in combination with radiofrequency, it has become the newest way to contour and tighten skin on the face, neck, hands, and body; this treatment results in immediate results with minimal discomfort or pain and no downtime needed afterward.
The Science Behind Microneedling
Microneedles are sterile and when applied to the skin they create microscopic channels that go deep into the dermis of the skin. These tiny channels can stay open anywhere from four to six hours and stimulate an individual's body to produce new collagen.
SylfirmX uses microneedle electrodes to deliver bi-polar energy deep into the dermis without causing any damage to the epidermis. The minimally invasive RF thermal energy creates fractional electrocoagulation in the dermis, which then facilitates a natural wound-healing process that promotes collagen and elastin remodeling as well as wound contraction, both of which work together to enhance skin laxity overall. When collagen, which makes up more than 80% of the dermis' total dry weight, breaks down, it compromises the skin's ability to bounce back. [3]
What are the Benefits of SylfirmX?
The SylfirmX machine uses RF energy to target specific tissue in your body. By using evenly-leveled electrodes, SylfirmX creates precise thermal coagulation that penetrates the accurate target depth; this induces optimal results with extra effectiveness. The treatment process is extremely precise, and the electrodes can reach great depths due to the robotic system that is inbuilt.
If you choose SylfirmX technology, you'll enjoy several benefits, including:
A quick and easy treatment
Minimal discomfort and invasiveness
Minimal disruption to your schedule
Many patients see results quickly
The Pulsed Wave Mode on SylfirmX creates selective coagulation to help recover hyperactive melanogenesis, which gives you pigmentations or patches of skin that become darker than the surrounding skin.
Microneedling treatments not only penetrate the surface layers of skin but all dermal layers, making the treatments faster and more effective. The eight modes available on the new SylfirmX allow Dr. Allen to customize each individual treatment session for optimal results.
Who is the Ideal Candidate?
Radiofrequency is a safe and effective treatment for all skin types. It can be used to treat a number of concerns, such as:
Aging skin
Sagging skin
Wrinkles & fine lines
Hyperpigmentation
Acne scars
Uneven skin texture
Large pores
Patients should be in generally good health to be considered for this procedure. If you have any skin infections, active acne, or other skin conditions, you may not be a candidate. If you have herpes simplex, you will need to take antiviral medication before and after the procedure.
Personal Consultation
During your consultation, Dr. Allen will assess your skin to determine if you are a candidate for microneedling with radiofrequency. She will also discuss your aesthetic goals and create a treatment plan to help you achieve the results you desire.
If you are looking for a nonsurgical option to improve the appearance of your skin, contact us today to schedule a consultation.
Preparing For Treatment
You will need to avoid sun exposure for four weeks before your treatment. This includes tanning beds, sunbathing, and self-tanning products. You should also avoid taking any blood thinners or other medications that can increase bleeding.There are few contraindications for treatment such as patients with lupus, autoimmune disorders, implantable medical devices, extreme keloiding tendencies, pregnancy, etc.
The SylfirmX Procedure
The SylfirmX procedure is performed in-office. The treatment area will be cleaned, and a topical numbing cream will be applied. Once the area is numb, the microneedling device will be passed over the skin to create microscopic channels.
After the channels have been created, RF energy will be delivered through the needles to heat the tissue and stimulate collagen production. The treatment area will be cooled during this process to protect the epidermis.
Depending on the area being treated, the entire process will take approximately 20-60 minutes, but if the treatment areas are extensive you may expect longer treatment times.
We recommend three to four treatments, scheduled every four to six weeks provide the best experience and outcome for patients. Although you can see results immediately in skin tone and texture, there is also gradual improvement during each treatment session and even three months after each session as collagen regeneration gradually increases over time.
Recovery After SylfirmX Treatment
After the procedure, your skin may be red and swollen, but this should resolve within a few days. It is important to avoid sun exposure and wear sunscreen daily to protect your skin during the healing process.
You should be able to return to your normal activities immediately, but you should avoid strenuous exercise for 24 hours. You may also experience some dryness, redness, and peeling for up to a week.
Dr. Allen will provide you with aftercare instructions to help you care for your skin during the recovery process.
Following your procedure, it is imperative that you keep your face clean as there are now small microchannels that could easily become clogged with dirt, debris, and makeup.
We recommend waiting at least 24 hours before applying any sort of makeup.
Do not use glycolic or retinoid topical creams for at least seven days prior to and after treatment.
To learn more about microneedling and see if it's the right fit for you, schedule a consultation with Dr. Allen today!
What are the Results of SylfirmX?
Remember that everyone is unique, and the collagen you create is exclusive to you. Additionally, your natural production of collagen will continue at a boosted rate for three months following use. However, your results should be:
Visible following the first treatment
Even more pronounced after each subsequent session
Long-lasting, with a single annual maintenance treatment recommended to keep your skin looking its best.
RF energy is a safe and effective way to achieve optimal results with minimal discomfort. If you are interested in learning more about this procedure or any other aesthetic treatments offered by Dr. Allen, contact our office today to schedule a consultation.
Corresponding & Complementary Procedures
When it comes to complementing your results, there are a few options available.
First, we recommend that all patients maintain a healthy lifestyle and daily skincare routine; this includes eating a balanced diet, drinking plenty of water, and using sunscreen every day. Additionally, you can use topical treatments like retinol or vitamin C to help improve your skin texture and tone.
Microneedling can also be combined with other aesthetic treatments like injections or laser resurfacing for even better results. If you are interested in learning more about these options, Dr. Allen will be happy to discuss them with you during your consultation.
To learn more about microneedling and see if it's the right fit for you, schedule a consultation with Dr. Allen by calling (919) 676-5052.
What is the Cost of Microneedling in Raleigh, NC?
The cost of microneedling will vary depending on the size of the treatment area and the number of sessions required to achieve your desired results. During your consultation, Dr. Allen will assess your individual needs and develop a treatment plan that fits your budget.
At Allen Aesthetic Surgery, we believe that everyone deserves to love the way they look. To learn more about financing your microneedling procedure, contact our office today.
Call (919) 676-5052 or fill out this form and our scheduling coordinator will contact you shortly.
References
El-Domyati M, El-Ammawi TS, Medhat W, et al. Radiofrequency facial rejuvenation: Evidence-based effect. Journal of the American Academy of Dermatology. 2011;64(3):524-535. doi:10.1016/j.jaad.2010.06.045
Zelickson BD, Kist D, Bernstein E, et al. Histological and Ultrastructural Evaluation of the Effects of a Radiofrequency-Based Nonablative Dermal Remodeling Device. Archives of Dermatology. 2004;140(2). doi:10.1001/archderm.140.2.204
El-Domyati MM, Attia SK, Saleh FY, Ahmad HM, Uitto J. Effect of topical tretinoin on photoaged facial skin: a histometric, immunohistochemical and ultrastructural study. Journal of Cosmetic Dermatology. 2004;3(4):191-201. doi:10.1111/j.1473-2130.2004.00094.x