Male Chest Reduction
Offered at our convenient location in Raleigh, NC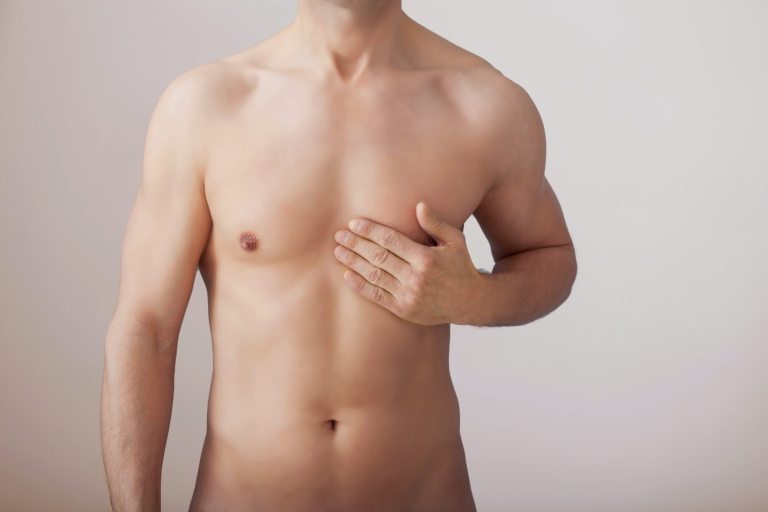 Male chest reduction is a simple surgical procedure to reduce the projection and appearance of gynecomastia. Gynecomastia is a natural, common condition that affects the male glandular tissue. Over the course of their lives, a staggering 60% of men will experience gynecomastia.[1] Also known as "man-boobs," men with gynecomastia often turn to diet and exercise to shed their feminine-appearing breasts. But, contrary to popular belief, this condition is not caused by fat but by swollen glandular tissue. So, unfortunately, improving your exercise and diet habits won't have an effect. The only way to regain a masculine appearing chest is through a male chest reduction. Dr. Amber Allen has helped men of all ages achieve a smoother, flatter chest.
How Gynecomastia Forms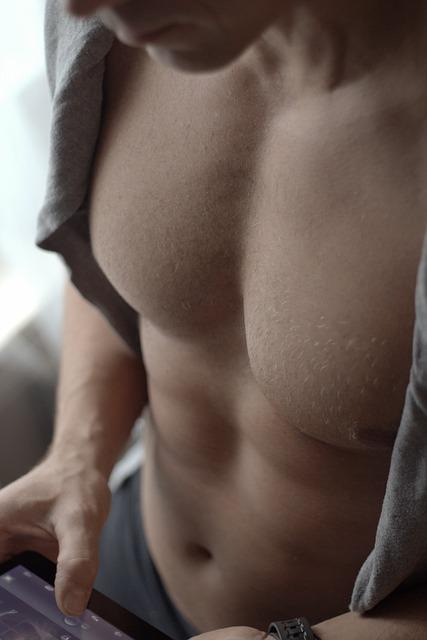 Much like with women, beauty standards have changed for men. Over the last few decades, what a man looked like shirtless began to play a larger role in defining his attractiveness. What caused this change? Well, from the 1950s to the 1990s, we saw a 32% increase in advertisements that showed men shirtless.[2] Today, whenever we see a shirtless man on a billboard or TV, he has a strong, athletic-looking body. Did this change in advertising and media cause the shift in men's beauty standards or vice versa? It's a real chicken or egg scenario. While the jury is still out on the cause, this change in male standards made its way into the cultural psyche and helped sway the direction of men's aesthetic goals. Now, the ideal male physique leans towards one that is lean with well-defined muscle mass.[3] Even 007 caught up with the times and gradually traded his tailored suits for a chiseled six-pack and prominent pectorals. But, with men who have gynecomastia, this ideal physique is nearly impossible to achieve.
Puberty
Puberty, obviously, brings several changes that affect the structure and physiology of a pre-teen body. Driving these changes is the male sex hormone testosterone. Testosterone falls under a class of hormones called androgens, which is derived from the Greek, meaning for man-maker. Testosterone fortifies bone density, boosts sperm count, regulates stress levels, and leads to masculine characteristics.[4] However, to counterbalance testosterone levels, your endocrine system releases estrogen, the female sex hormone. Conversely, estrogen drives the changes in women during puberty and later in life during pregnancy and menopause. If a man's endocrine system releases too much estrogen, it can cause some of those feminine changes to occur. This commonly leads to the formation of breasts. As you continue through and out of puberty, as your hormone levels balance out, most teenagers see their gynecomastia disappear. But, for many men, this condition remains for life.
Later In Life
Much like in puberty, a man's hormones fluctuate later in life during a hormonal phase called andropause. This change is spurred on by the gradual loss of his body's testosterone supply. Starting at 30, men lose around 1% of their testosterone every year.[5] This gradual loss of testosterone means that estrogen levels become dominant, causing glandular tissue to swell. Because their supply of testosterone is dwindling, older men who develop gynecomastia typically see this condition worsen with age.
Diet & Lifestyle Choice
Along with puberty and andropause, there is a third way of developing gynecomastia that stems from diet and lifestyle choices. Based on these choices, your endocrine system may become unbalanced and overproduce estrogen. For example, soy consumption has been shown to have a strong link to late adult-onset gynecomastia.[6] When you overconsume soy, the phytoestrogen cell in the plant mimics estrogen in your body, causing a hormonal imbalance and triggering a feminization of your mammary glands.[7]
In terms of lifestyle, various activities can raise testosterone levels, which directly spike estrogen levels. One of these common activities is anabolic steroid use. When men use anabolic steroids to boost testosterone levels, your endocrine system tries to reclaim homeostasis by producing equal amounts of estrogen. As the anabolic testosterone levels wane, the natural estrogen levels remain high. This imbalance, as you may have guessed, causes gynecomastia. Research has shown that 52% of men who used anabolic steroids developed gynecomastia.[8]
What Is Male Chest Reduction?
Now, how does Dr. Allen get rid of your gynecomastia? Well, first she determines that it is in fact gynecomastia. Many men have a condition called pseudogynecomastia which is the result of subcutaneous fatty tissue in the breasts. For these patients, Dr. Allen performs a simple liposuction procedure. In patients with genuine gynecomastia, liposuction can also be of aid in reducing some of the extra tissue. Some men also require excisional removal of thicker or more fibrous tissue. In this, Dr. Allen places placed small incisions around the areolas. Next, she carefully pulls out and excises the extra tissue through the tiny incisions. She ensures that the pectorals are as even as possible before closing the incisions with sutures. Once these incisions are healed, the natural coloration of the areola will camouflage any scarring. In some instances, a man may have a large amount of extra skin or tissue requiring larger incisions for best overall result.
Candidates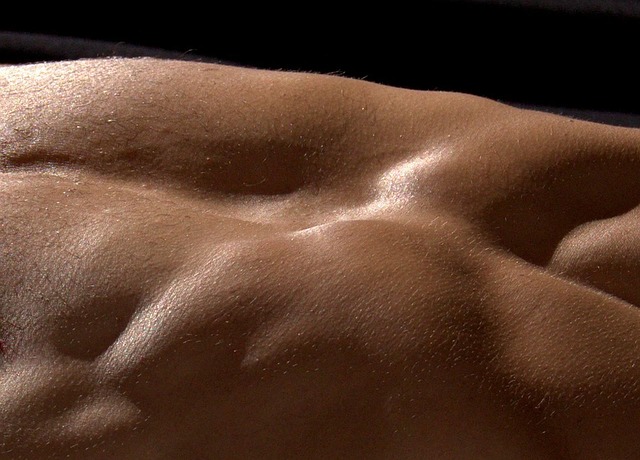 If you are interested in a male chest reduction, the first step is to schedule a personal consultation at our Raleigh offices. Here, we will diagnose your condition and determine your eligibility. Since gynecomastia can affect any man at any age, we see patients from all stages of life. In most cases,  a local anesthetic is used during this procedure, so you don't have to worry about general anesthesia. A male chest reduction is also a procedure that can be seamlessly added to a host of other body contouring surgeries. At your consultation, we will construct a personalized treatment plan to outline your ideal aesthetic results and our plan to make them a reality. 
Personal Consultation
If this is your first time at Allen Aesthetic Surgery, we will begin with a new patient intake interview and a physical examination. We'll take note of your aesthetic goals and recommend different procedures or treatments that we think are right for you. Dr. Allen will assess your candidacy for male chest reduction as well as any other procedure(s) you have in mind. She will use all of this information to construct your comprehensive treatment plan. Once we have agreed on an approach, we will give you a list of preparatory steps.
Preparation
These general guidelines will ensure an optimal surgery that's followed by remarkable results. 
Avoid blood-thinning medications like Advil and aspirin. These can cause excessive bleeding during the procedure.
Stop smoking, vaping, and using smokeless tobacco. Nicotine constricts blood vessels and may complicate the healing process.
Avoid alcohol. Alcohol in your system may cause excessive bruising and swelling in the treated tissue.
Recovery
After your male chest reduction, Dr. Allen will wrap your chest in a compression garment to encourage healing. Be sure to keep this on for the next few days. Right away, you will notice the projection of your pectorals has gone down severely. Once the swelling and bruising have completely subsided, you'll see the final, flattering results. We ask that you avoid strenuous activities like heavy lifting or exercising for the next few days. We'll give you more personalized instructions at your post-op consultation.
How Much Does Male Chest Reduction Cost in Raliegh?
The cost of your treatment will be determined by the extent of your procedure. We will discuss and determine your unique cost during your initial consultation. If you would like to learn about our current specials, go to our specials page. For those who like keeping up with the latest in the aesthetics industry, check out our blog. If you have any questions, be sure to call us at (919) 676-5052.
FAQ
What does a breast reduction surgery entail?
Breast reduction surgery is the ideal solution for those who have tried diet and exercise and are still not satisfied with their relative breast size. In some individuals, diet and exercise may not be enough, especially if the breast enlargement is caused by excess glandular tissue. The procedure for breast reduction is both effective and non-invasive. Most surgeries utilize a liposuction-type approach which is minimally invasive and results in a faster recovery time. With this approach, one small incision is made on both sides of the chest, either on the areola or in the armpit, while the patient is under general or local anesthesia with sedation. The entirety of the procedure, including fat removal and the reshaping of the chest, is then performed within those incisions.

In some cases, surgical tissue excision may need to be performed. This refers to the surgeon removing pieces of tissue and may be required if there needs to be more glandular tissue or skin removed. Just as with other procedures, the surgeon will try to minimize scarring by placing the incisions along the areola or in the naturally occurring creases of the chest. Despite the potentially larger scar, most men report being satisfied with the procedure.
How long is the recovery process?
Recovery time depends on the extent of the procedure and the individual, however, most men report returning to work within days of the procedure. Most surgeons will require their patients to wear a compression garment for the first few weeks after surgery to provide extra support to the skin and tissue, allowing them to heal correctly and quickly. During this time, Dr. Amber Allen may prescribe pain medication to alleviate soreness, although most patients are content with over the counter painkillers.
Will I be able to partake in any physical activity after surgery?
After the initial recovery, physical activity is usually restricted for up to three weeks and there may be some numbness in certain areas while the nerves recover. The loss of sensation is temporary, but the result from the surgery are long-lasting. Most times, the results will last forever unless the patient experiences excessive weight gain. The best results are usually seen about three months after surgery.
References