Tummy Tuck
Offered at our convenient location in Raleigh, NC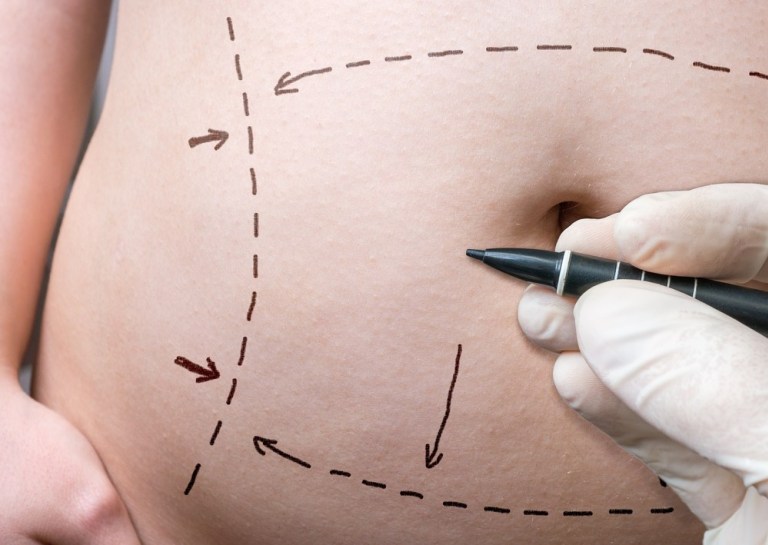 Due to body changes that occur throughout a patients life, commonly from weight loss or pregnancy, the skin around the stomach can become loose, flabby, or deformed. This is particularly common in patients who have gone through weight-loss procedures like a gastric bypass.
Following these events, the skin around the abdomen becomes loose and often hangs down over the waist. No amount of physical activity or lotions are going to help this skin return to normal, but a tummy tuck can return the youthful tautness that these patients desire.
Did You Know?
The technology behind the tummy tuck, or abdominoplasty, had existed since the early 1800's when grievous wounds were being closed using excess skin. In 1890 these same techniques were first used for a cosmetic procedure, though during the early days it was thought that removing the belly button was essential to the procedure. Thankfully that limitation was overcome in the early 20th century, and millions of patients have benefited from the beauty restorative effects of receiving an abdominoplasty.
Before & After Photos
FAQ
Is A Tummy Tuck Right For Me in Raleigh, NC?
If you have loose skin in the abdomen and are self-conscious about baring your midriff in a bikini or going without a shirt, then abdominoplasty may be right for you. Ideal patients are those who are otherwise in good health and have proper expectations about what to expect from the procedure. This procedure is especially suggested for those who aren't planning to have additional children or have lost a significant amount of weight resulting in excess skin.
How Is A Tummy Tuck Performed?
The procedure begins with an incision that extends from one hip to the other over the pubic bone. As a full tummy tuck requires moving the belly button an incision will be made around it separating it from the surrounding skin so it can be resecured when the procedure is complete. In cases where the abdominal muscles have experience stretching and damage, they will be tightened using sutures. There is also a procedure known as a mini-tummy tuck which only involves the tightening of the skin in the area below the belly button. In some cases, a belt-lift will be appropriate, which is a procedure involving the tightening of the abdomen, thighs, and buttocks following significant weight loss.
What Should I Do To Prepare For A Tummy Tuck?
Prior to your procedure, Dr. Amber Allen will go over the details of your surgery day and provide you with documentation that will provide additional information to take home with you. Read over these documents and take note of the specifics involved. As a brief synopsis, you should prepare to have a ride home the day of the procedure, and have already picked up your medication prior to the procedure. For a few days after the procedure make sure you have assistance for housework and other light chores as you will experience fatigue and soreness following it. Make sure your forms of entertainment are close at hand in your home and be prepared to spend a couple of weeks in relaxing in recovery.